Researchers Identify Endangered Rice's Whales' Habitat Requirements to Inform Recovery Efforts
21-11-2023
3 980
Добавить к себе
Еще
Кадры из видео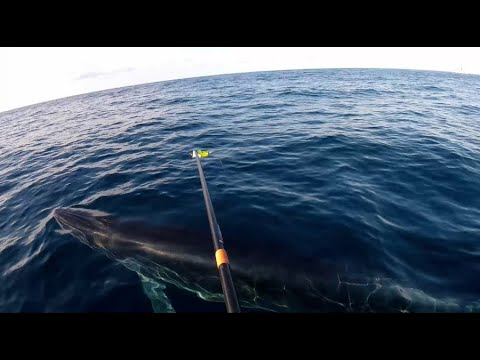 In 2021, a NOAA-led study found that Gulf of Mexico Bryde's whales (pronounced "broodus") are not Bryde's whales after all, but a new species of baleen whale unique to the Gulf.

The research team's findings are based on more than a decade of genetic and morphological analyses conclusively accepted after examining the remains of a stranding in Florida in 2019. The scientists named the new species Rice's whale after prominent marine biologist Dr. Dale Rice, the first researcher to note the whales' presence in the Gulf.

Rice's whales are typically found around the edge of the Gulf's continental shelf, with the greatest concentration of sightings recorded off the crook of Florida's Panhandle. With only 50 or so individuals in existence, there is great urgency to learn more about this critically endangered whale.

The small population faces many threats, including vessel strikes, energy exploration and development, entanglement in fishing gear, and oil spills. Scientists estimate that nearly half of the Deepwater Horizon's oil spill footprint in 2010 overlapped with the whales' habitat, causing mortalities and reproductive failures that shrunk the population by an estimated 22 percent.

With funding from NOAA's RESTORE Science Program (administered by NCCOS), NOAA's Dr. Lance Garrison, his team, and their academic partners are working to understand the whales' habitat requirements and ecological role in Gulf of Mexico food webs. The researchers are using environmental data, prey sampling, and various monitoring techniques, including whale-mounted tracking tags, to study the whales' geographic range and foraging activities.

Data collected thus far show that Rice's whales spend most of their daylight hours diving to depths near the seafloor, feeding while down, and coming up to the surface on an eight-minute cycle. Then, they stay at or near the surface most of the night. The constant daylight diving has investigators wondering what the whales' energy requirements are and whether they are being met by the resources and prey available.

Project results are helping identify the whales' critical habitat and will be used to inform and improve the recovery, management, and protection of Rice's whales.