Chittorgarh Fort - Rani Padmavati's "JAUHAR KUND'' | DRONE FOOTAGE AERIAL VIEW
18-09-2023
3 125
Добавить к себе
Еще
Кадры из видео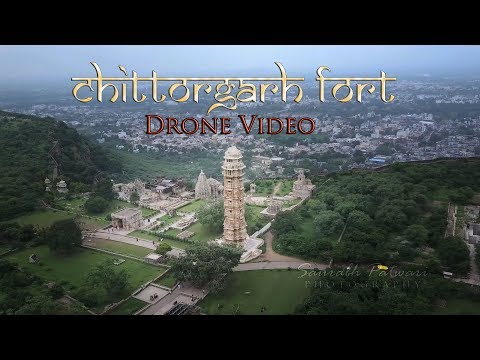 ▶ Check out my gear on Kit: https://kit.com/CAsaurabhPatwari

one of the largest fort of India. which called as chittorgarh fort of rajputana's, It is 112 km from Udaipur and 182 km from Ajmer .
It sprawls over a hill 180 m (590.6 ft) in height spread over an area of 280 hectare (691.9 acres).
The first attack was by Alauddin Khilji in 1303 A.D., who was enamoured by the beauty of Padmini of which he had only heard. Rani Padmini preferred death to abduction and dishonour and committed jauhar (an act of self immolation by leaping into a large fire) along with all the other ladies of the fort. All the men left the fort in saffron robes to fight the enemy unto death. Chittorgarh was captured in 1303 A.D. by Alauddin Khilji, Sultan of Delhi who led a huge army.
By the 16th century, Mewar had become the leading Rajput state. Rana Sanga of Mewar led the combined Rajput forces against the Mughal emperor Babur in 1527 A.D., but was defeated at the Battle of Khanua. Later in 1535 A.D., Bahadur Shah, the Sultan of Gujarat besieged the fort causing immense carnage. It is said that again just like in the case of Jauhar led by Padmini in 1303 A.D., all 32,000 men then living in the fort donned the saffron robes of martyrdom and rode out to face certain death in the war, and their women folk committed Jauhar led by Rani Karnawati. The ultimate sacrifice for freedom, Jauhar was again performed for the third time after the Mughal Emperor Akbar captured Chittorgarh in 1568 A.D.
Chittorgarh is also famous for its association with two very widely known historical figures of India. The first is, Meera Bai the most famous female Hindu spiritual poetess whose compositions are still popular throughout North India. Her poems follow the Bhakti tradition and she is considered to be most passionate worshipper of lord Krishna.
In 2013, at the 37th session of the World Heritage Committee held in Phnom Penh, Cambodia, Chittorgarh Fort, along with 5 other forts of Rajasthan, was declared a UNESCO World Heritage Site under the group Hill Forts of Rajasthan.